Kixott Movie Nights: Talk to her
March 22 @ 8:00 pm

-

10:00 pm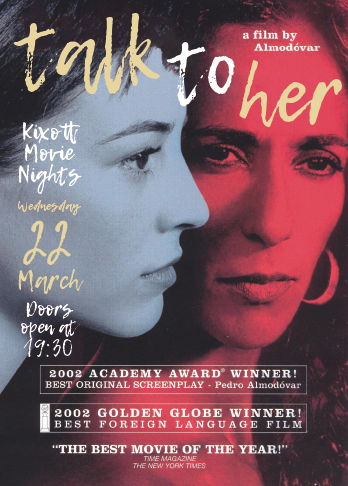 Spanish auteur Pedro Almodóvar's sprint across the international cinema landscape remains undimmed, and he continues to rush through the firmament with the kind of bold, brash energy that characterises his most beloved works.
There are some standouts among his oeuvre, though, and Talk to Her is one of them.
Weaponising Almodóvar's expert manipulation of complex, intertwined narratives made compelling and legible through an astute use of the language of melodrama, it tells a story of intersection obsessions that Hitchcock could have made, if only he had something resembling a fully-functioning human soul.
Grab your favourite potion and head on upstairs to let it all out: you may need some more after it's all done, but only because it'll remind you that life — for all its compounded pain — also comes with large dollops of beauty.