Kixott Movie Nights: To Die For
March 15 @ 8:00 pm

-

9:45 pm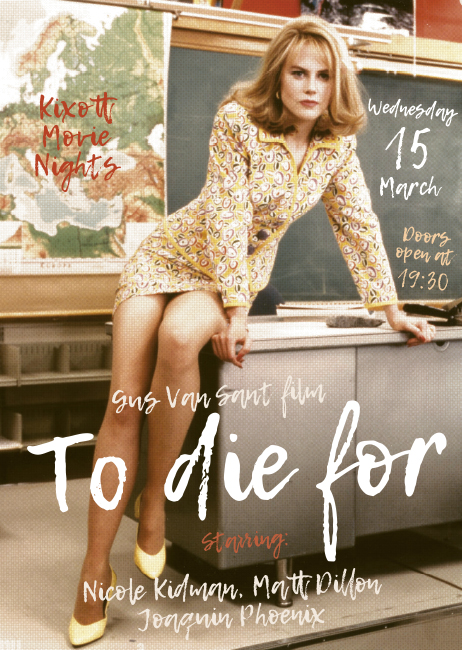 It's a good thing that celebrity culture was eradicated from this earth entirely soon after this darkly satirical cult classic made its way to the multiplexes back in 1995.
It's not like what used to be 'limited' to merely TV and print magazines has now spilled over onto palm-portable little machines that help us to not only mainline celebrity news and gossip, but to have our own stab at it.
Sure, Gus van Sant remains a seminal filmmaker and To Die For will continue to be seen as a fine example of the kind of smart, incisive storytelling this popular-AND-acclaimed artist has become known for. Nicole Kidman makes for a ravishing femme fatale any day of the week, and seeing a super-young Joaquin Phoenix, Matt Dillon and Casey Affleck will add to its curiosity factor.
So it's a shame that this story of a woman who will literally do anything — and anyONE — for her stab at fame has sadly lost all relevance nowadays. But alas, those who pay no attention to history are doomed to repeat it, and all that.
Grab a stiff drink from the bar and prime your instincts for some guilty pleasures… because this evil is all the more blissful for being so readily recognisable.